Units 15-16
Ford Lane Business Park
Ford Lane
BN18 0UZ
PUNDITUltrasonic Pulse Echo Non-Destructive Testing
Non-destructive testing is used to examine the quality of concrete.
More info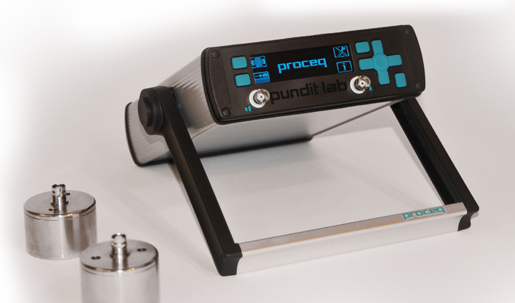 Ultrasonic Pulse Velocity
The velocity of ultrasonic pulses travelling in a solid material depends upon the density and elastic properties of that material. Recognized for testing concrete this method of test may be applied to plain, reinforced and pre-stressed concrete whether it is precast or cast insitu.
The measurement of pulse velocity may be used to determine the homogeneity of the concrete, the presence of voids, cracks or other imperfections and, even changes which may occur over time or through external influences. The latest PUNDIT manufactured by PROCEQ SA features online data acquisition, waveform analysis and full remote control of all transmission parameters.
Usage
Transmission and receiving transducers are connected to the instrument. Transducers may be applied to the material under test directly, semi-directly or indirectly (surface).
The measurement of pulse velocity will generally depend upon the properties of the material under test and the velocity measurement enables an assessment to be made as to the condition of the material.
Ultrasonic Pulse Echo
The Proceq PUNDIT PL-200PE employs state-of-the-art pulse echo technology to extend the ultrasonic applications to objects where access is restricted to a single side.
If you have any further questions about how to read the results, email or phone us and we can help you out.
Specification
Range: 0.1 - 9999us
Operating Temperature: 0ºC to 40ºC
Frequency Range: 24 - 500khz
Weight: ~ 6kg (varies with model)
Dimensions: ~ 315 x 315 x 315mm (varies with model)
Standards: EN 12504-4 ; ASTM C 597-02 ; BS 1881 Part 203 ; ISO1920-7:2004 ; IS 13311 ; CECS21
Not sure about something? Email or phone us and we can help you out.